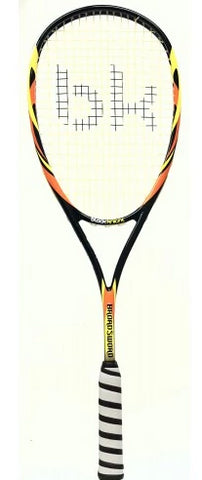 Black Knight Broardsword TC (Demo)
Designed for: Novice to intermediate (SINGLES & DOUBLES)
 
Frame: BK's Thermal Core, Carbon 4, XMG, Rad Cushion grip
String:  SuperNick ZX Micro
String Tension: 25-29 lbs
Rigidity (RF): 88 Medium
AFW: 140g
DW: 130
Balance: Light
Speed: 8.1
Power: 8.4
Control: 8.2
Area: 490 sq. cm.
Warranty: 6-months (includes 45-day "No Fault" Guarantee*)
 
Characteristics: The Broadsword TC features a large bridged head for a large, wide sweet spot. This model is manufactured with BK's revolutionary "Thermal Core Technology" (TC), where the racquet is pressurized with superheated air while it is being cured. This creates uniform curing inside the frame and out, so that the racquet will have greater durability and a more responsive hit. 
With a headlight balance, this is a quick and easy-to swing racquet for intermediate players. This is also a good doubles frame for those players who enjoy hitting on the doubles court. It is strung with Ashaway SuperNick ZX Micro and has a Rad Cushion Grip for superior grip control.
---
We Also Recommend
---